Today, most people rely on videos to gather information. Therefore, YouTube or similar media has gained a lot of attention among the people. YouTube ranks second in the Alexa Worldwide Website Rankings 2021. From that you can understand the popularity of YouTube. The number of YouTube channels is increasing day by day. There is a good competition between the channels to increase the popularity and revenue. That is why YouTube thumbnail plays a good role in gain video popularity.
Today I will introduce how to make a YouTube thumbnail using mobile. There is a one mobile app that is trending today
Canva
Let's see how to make a YouTube video thumbnail using Canva mobile application. Canva is trending in mobile application and web application. Using this application we can create posters, YouTube thumbnail, logo and much more. This can download from Google Play Store.
Download Canva: https://play.google.com/store/apps/details?id=com.canva.editor
After the installation open Canva application.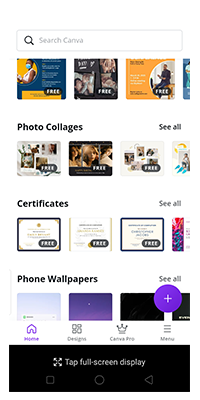 There is an icon(+) on bottom right. Click on it.
There you can search templates for YouTube thumbnail or any other graphic design. Here it is plenty of predefine templates are available. Just select one appropriate template for your work, or you can set a custom size.
After selecting the template you can edit the text, images and other things using icon(+) at the bottom left. There is so many tools for editing text, drawing shapes, uploading new images to our art work, set new background etc. Also, you can integrate different applications like Pexels, Pixabay, Emoji, Google Drive, Instagram, YouTube. So this is the best application for creating YouTube video thumbnails.
After the design, you can directly save to the mobile, or you can share it through different social media accounts. Canva save your time and reduce your effort.
There is another method for creating video thumbnail for YouTube using YouTube Studio.
Create YouTube video thumbnail using YouTube Studio
Sign in to YouTube Studio account.
From the left menu, select Content.
Select a video by clicking its thumbnail.
Choose an auto-generated thumbnail and select Save.
This is the simplest method for creating YouTube thumbnails. I already say that video thumbnail plays a major role in gaining popularity. So I would suggest the canva application.